The Cultural Heritage of Hiraizumi was inscribed on the World Heritage List (i.e. to become a World Heritage)
at the 35th session of the World Heritage Committee, which was held in Paris, France in June 2011.
Home ≫ World Heritage Hiraizumi

【Property Name】
Hiraizumi - Temples, Gardens and Archaeological Sites Representing the Buddhist Pure Land -
【Why is Hiraizumi a World Heritage site?】
In Hiraizumi, there is a well-preserved group of various temples and gardens that were created based on Buddihsm, particularly the thought of Pure Land Buddhism.
These temples and gardens, which were an attempt to create an ideal world, were the product of both influence from abroad and unique developments achieved here in Japan.
The way of representation for the ideal world based on Buddhism in Hiraizumi is very unique.


Into the Future
Hiraizumi has been registered as a World Heritage site, recognized for the universal value of its remarkable buildings and gardens that directly express Pure Land Buddhism. Hiraizumi's history and culture are multifaceted. We are spreading the word far and wide about Hiraizumi's diverse value, and feel that the many tangible and intangible cultural assets related to the registered properties here are also important. The Yanagi no Gosho Site and Takkoku no Iwaya (Hiraizumi Town), Honederamura Shoen Site (Ichinoseki), Shirotoritate Site and Chōjagahara Haiji Site (Ōshu City) are particularly important historic ruins for understanding Hiraizumi.
In order to further tell the world about the valuable things found in Hiraizumi, we are moving forward with our objective to add to and expand the registered properties.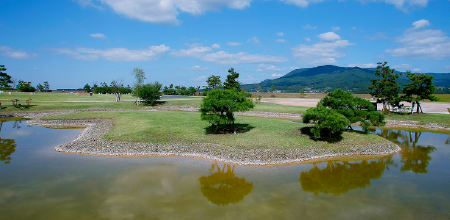 Yanaginogosho and Hiraizumi Iseki-gun [Historic Site]
This area by Kitakamigawa River at the foot of Takadachi was thought to have been the residence of Fujiwara no Kiyohira and his son Motohira. However, six-year emergency excavations that began in 1988 with plans for a major bypass road indicated something altogether more interesting. Continued excavations have unearthed enormous quantities of high quality relics and remains from the twelfth century—strongly suggesting that Yanaginoosho Iseki was the governmental center of Hiraizumi (Hiraizumi no Tachi) recorded in the Azumakagami, the official history of the Kamakura shogunate.
Further information here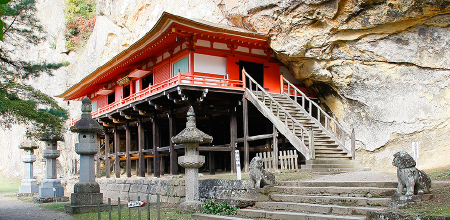 Takkoku no Iwaya [Historic Site]
The temple is said to have been founded in 801 by generalissimo Sakanoue no Tamuramaro to commemorate his success in subduing disturbances among the local population, and give thanks to the protection of the buddhas. It is said that when barbarian-conquering generalissimo Sakanoue no Tamuramaro crushed local resistance to imperial rule in 801, he commissioned this temple and enshrined in it 108 statues of Bishamon (Vaiśravaṇa, protector of the north and the Buddhist law) making Takkoku no Iwaya a subsidiary to Kyoto's famous Kuramadera temple. According to the legendary account of this battle, which was enormously influential in medieval society, the resistance leader, Akuroō, was hiding out in this cave when he was defeated by Tamuramaro. Minamoto no Yoritomo, founder of the Kamakura shogunate, prayed here on his way back to Kamakura. The temple grounds are also home to the northernmost Buddhist image carved into a rock face in Japan.
Further information here
It returns to the home page