Home ≫ Model Courses ≫ Hiraizumi History Hunt

Hirazumi has a long history and so if you walk around a little, you will find lots of historical relics and buildings of great men.Take a relaxing walk while thinking about the historical figures of Hiraizumi.


The Yanagi no Gosho Site is presumed to be the remains of Hiraizumi-no-tachi which was the base of government of the Fujiwara clan. Lots of wooden products, ceramics and porcelain along with large numbers of used earthen vessels have been excavated here and these are keys to fully understanding the mysterious history of Hiraizumi.
Further information here
About 6mins
(300m)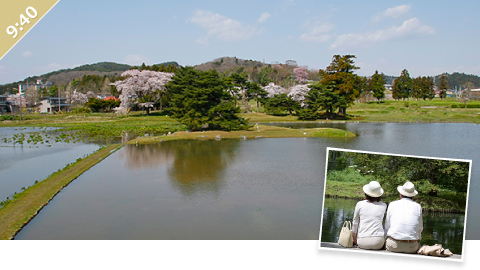 These are the remains of a temple built in the image of Byodo-in Temple in Kyoto by Hidehira, the 3rd lord of Fujiwara. Investigation of the site has shown that the spaces between the pillars and the left and right transepts were larger than those of Byodo-in Temple. It's conjectured that the temple building on this site was larger than Byodo-in and was more resplendent. These days, only the size of the grounds act as a reminder of the prestige of this site long ago.
Further information here
About 10mins
(500m)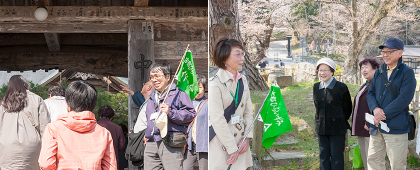 A group of guides of the ancient city of Hiraizumi.
These guides show tourists around Hiraizumi and the ancient city while telling stories and myths which are not printed in any guide books and that only locals could know.
Further information here
About 6mins
(300m)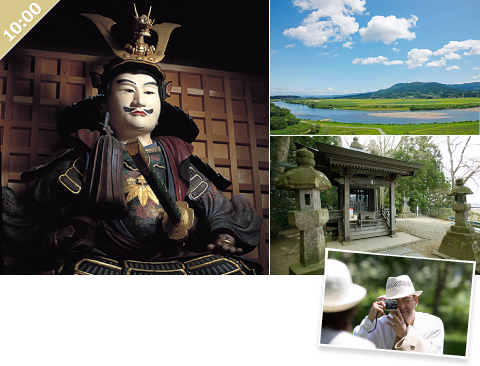 It's said that Takadachi is the place that Minamoto no Yoshitsune's life ended having asked Hidehira Fujiwara for refuge and requested to live peacefully in his second home of Hiraizumi as he was being pursued by his elder brother, Minamoto no Yoritomo. Takadachi which stands on a hill facing the Kitakami River is also known as "Hangandate". The son of Hidehira, Yasuhira Fujiwara, bowed to pressure from Yoritomo and raided Takadachi where Yoshitsune was. This is the place where Yoshitsune committed suicide after killing his wife and daughter. It's moving to think about whether Yoshitsune and his retainer Benkei also looked out over this magnificent scenery looking down to the Kitakami River from this hilltop.
Further information here
About 4mins
(200m)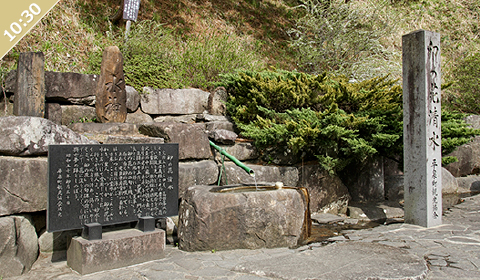 This is a spring at the base of Takadachi Gikei-do. The name originates from a poem containing the phrase "U no hana" composed by Sora Kawai who was a pupil of Basho Matsuo when he visited Hiraizumi in the Edo era. It's a poem that compares the white Japanese snowflower in full bloom to the appearance of Kanefusa, a retainer of Yoshitsune, with his disheveled white hair fighting hard to the last and dying in the raid on Takadachi.
About 6mins
(300m)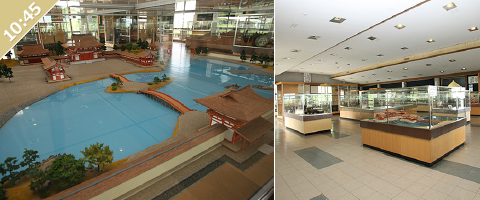 This museum showcases the Hiraizumi of the Oshu Fujiwara era and the era of the Date clan of the Sendai Domain. You can gain an understanding of Hiraizumi through the exhibits on display here which include figures dressed in the style of those times. It's also worth taking a peek in the nearby souvenir shop.
About 10mins
(500m)
Lunch in the Tsukimi-zaka Slope Area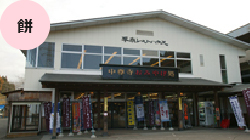 Hiraizumi Rest House
Business hours: 10:00-15:00
Closed: Open all year
Address: Hiraizumi, Aza, Sakashita 10-7
Tel: 0191-46-2011

Isekiya
Business hours: 9:00-17:00
Closed: No set days off although sometimes closed on weekdays in winter
Address: Hiraizumi, Aza, Koromonoseki 34-2
Tel: 0191-46-2733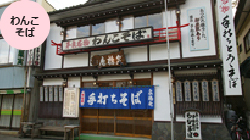 Senkyoan Soba Shop
Business hours: 08:30-17:00
Closed: Open all year (occasional days off 1st Dec-end of Feb but no set days off)
Address: Hiraizumi, Aza, Koromonoseki 34-2
Tel: 0191-46-4962
About 2mins
(100m)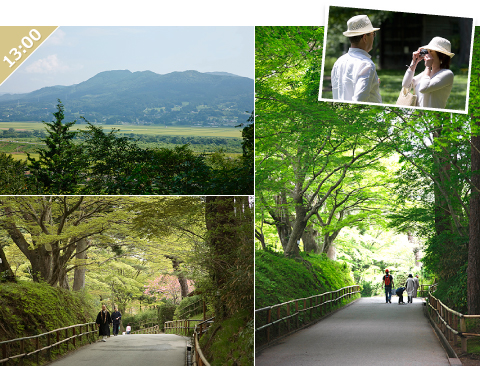 Chuson-ji Temple is located on a hilltop at a height of around 130m. You climb up the Tsukimi-zaka Slope, which is the road leading to the temple, to pay homage at the hondo (main temple building) or the Konjiko-do (Golden Hall). Towering cedar trees that are around 300 years old line both sides of this road approaching the temple and greet the visitors who come here. You can see Mt. Tabashine and the Kitakami River in the gaps between the trees. Thinking about whether the people of long ago also looked out at this view can create the illusion of you being back in that era.
Point of interest!
It's 560m to the hondo (main temple building) and 800m to the Konjiki-do (Golden Hall) so it's best not to rush and to walk at a leisurely pace. There's a rest point halfway up the slope which is a great place to stop and look out over the town of Hiraizumi.
Further information here
About 14mins
(700m)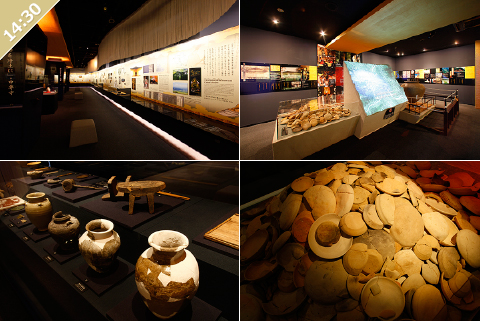 You definitely can't miss going to this place if you want to learn about the culture and history of Hiraizumi! Valuable artefacts are displayed in an easy to understand way and you can take your time to view them in detail. The era before the Oshu Fujiwara clan is explained here giving you a thorough understanding of the origins of Hiraizumi. There are books about Hiraizumi right by the reception area and time can pass quickly by without realizing it while reading them.
Point of interest!
There's an area in the center where you can try on clothes from the Heian era.They're easy to put on so definitely give it a go!
Further information here
About 14mins
(700m)
Take a Break on Motsu-ji Temple Street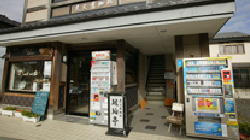 cafe&bar Kohaku
Business hours: 11:00-19:00
Closed: No set days off
Address: Hiraizumi-cho, Aza, Shirayama 8-34
Tel: 0191-46-2721

Ayame
Business hours:
  April~November 9:00~18:00
 December~Months 9:30~17:30
Closed: 3rd Wed of each month
Address:61-5 Oosawa, Hiraizumi
Tel:0191-48-3135
About 10mins
(500m)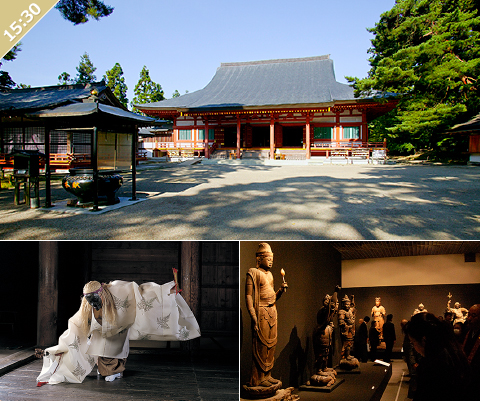 There's a Homotsu-kan (Treasure Hall) on the left hand side soon after passing through the temple gate which has Buddha images, handicrafts, excavated artefacts and costumes used for Ennen Dance on display. There are a number of really impressive Buddha images here designated as cultural assets so definitely take a look. There are lots of historic sites in the temple grounds and if you carefully walk around and see them all, they really communicate the magnificence of the culture of Hiraizumi.
Point of interest!
The Ennen Dance of Motsu-ji Temple is designated as an important intangible folk cultural asset. The dance is performed at the Motsu-ji Hatsukayasai Festival on January 20 and the Spring Fujiwara Festival in May.
Further information here
Return to the summary of the recommended tourist route