Home ≫ Model Courses ≫ HIRAIZUMI TOURING

START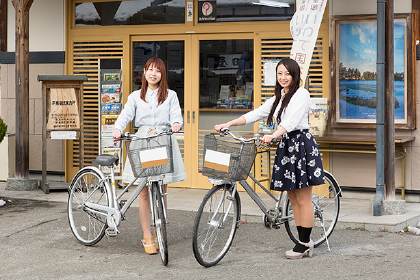 The distinctive modern building of the station, which also gives a sense of the ancient city, is the starting point. There are lots of maps of the surrounding area and tourist pamphlets in the tourist information office that's on your left hand side soon after leaving the station. After getting information on the local sights and places to see, head to the rental bike shop close to the tourist office. Borrow a well-maintained bike and you're off!
In the area around the station there's a tourist information office and a rental bike shop which is really convenient.They will also look after your baggage which is a great help!
1.6km
About 10mins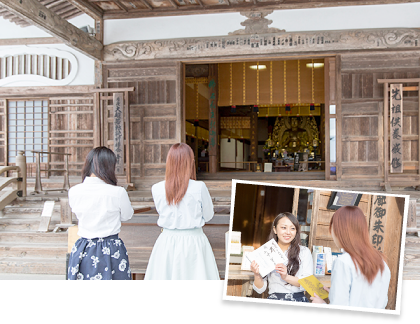 Inside Chuson-ji, which houses the national treasure Konjikido (Golden Hall), there are more than 10 places to get a goshuin (temple seal) and you can also get an original goshuincho (special note paper with folded panels to stamp the temple seals on). If you buy a goshuincho at the Kojikido (Golden Hall) you can receive a Konjikido goshuin on two pages opposite each other. The goshuincho has a golden cloth-covered cover so it has a high quality feel to it.
Get a goshuin (temple seal) and an original Chuson-ji goshuincho (note paper for stamping temple seals on).I wonder how many different kinds of goshuin (temple seals) you can get?
Further information here
1.4km
About 10 mins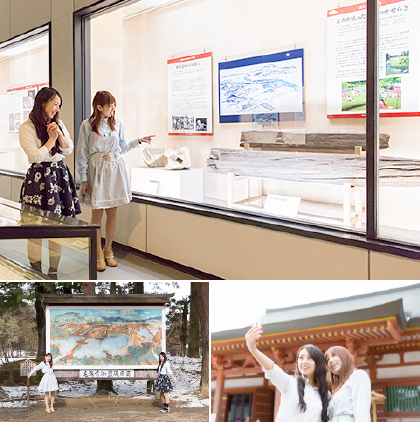 Soon after passing through the temple gate, there's the Homotsukan (Treasure Hall) on the left which in accordance with its name has important documents, Buddhist images, excavated artefacts and Ennen dance costumes on display and you are able to glimpse at the prosperity of the era that the Fujiwara family was proud of. There are a large amount of artefacts here designated as cultural assets that you'll want to take your time viewing. Your heart will leap when you wonder about whether the artefacts were touched by the people of 800 years ago.
You'll be surprised at how beautifully preserved the artefacts and relics from the Heian era are!There may still be precious discoveries to be made hiding in Hiraizumi.
Further information here
Lunchtime in Motsu-ji Temple Area! Taste the Local Dishes

Zunda mochi
Rest place Shofuan (soba, sweets)

Hatto dishes (dough boiled in soup)
Restaurant Sakura
4.5km
About 27mins

There's a terrible legend attached to this large, towering rock. A long time ago, a man named Akuro-o who ruled this area would kidnap young women if he heard they were beautiful. There was one young woman that ran away from him and Akuro-o cut off her head as an example to others and threw it into the Ota River. Downstream her hair became entangled on a large rock and the rock became known as "katsuraishi (wig rock)" as her hair looked like a wig on the rock. It's also said that Akuro-o is still lurking at Himemachi no Taki (princess waiting waterfall) ready to catch young women.
0.7m
About 3mins

This is a cave in which the God Bishamon was enshrined by the commander-in-chief Sakanoue no Tamuramaro to commemorate a victory in battle. According to legend, Tamuramaro defeated Akuro-o, the local ruler who had tormented the people of this area. Takkoku no Iwaya is a sacred area in the grounds of and under the administration of Takkoku Seiko-ji Temple. To the west of Bishamon-do, there is a magaibutsu (a Buddha in the cliff face) which Minamoto no Yoshiie, Governor of Mutsu Province, had dug out and made to commemorate the souls of the people who lost their lives in battle. There is also Gamaga Ike Pond and Benten Hall in front Bishimon-do which is known as a power spot which brings luck for coming into money so definitely come and visit.
You can also get a Goohoin which is the strongest charm around (and it also has a written pledge on it) from the homepage.
Further information here
6.6km
About 40km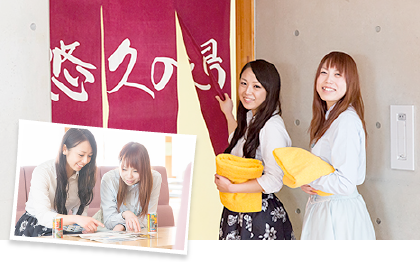 Wash off the dirt and sweat after enjoying a full day on the bike. Yukyu no Yu is a natural hot spring near the station. It's a salt spring which is effective on aching muscles, joint pain, skin conditions, burns and bruises. This is the perfect place for a tired body.The washing and bathing area is spacious so you can enjoy a relaxing hot spring here. You can buy 100% apple juice made in Hiraizumi in the hot spring shop. Why not have one after getting out of the hot spring? You can also eat here too.
Further information here
0.6km
About 5mins

Buy some souvenirs in the shops in the station area once you return to Hiraizumi Station! There are shops selling handicrafts and famous confectioneries. Buy lots of goods for the people you know and then travel back home!
GOAL
Return to the summary of the recommended tourist route